Every year, artists are invited to submit an application to have their work juried for exhibition in the Kanata Civic Art Gallery. When our call for artists to submit for 2019 went out, we were pleasantly surprised with many applicants. The jury chose 7 artists out of all of the applicants.
We would like to give a warm welcome and congratulations to Chantal Dupuis, Denise Guillemette, Judy Dana, Kate Ryckman, Lynn Lee, Michael Goguen and Rebecca Clouâtre. All are very gifted artists who will add considerable flair to our displays of outstanding artwork.
Here is a little about each artist and a small sampling of their art. Their artist pages will be up on the website soon!
Rebecca Clouâtre
While playing with scale and balance, Rebecca Clouâtre's hand-cut paper collages aim to encourage viewers to contemplate the intricacies of nature and our complex relationships with it.
Michael Goguen
Michael's artwork ranges in subject matter from realistic to purely surreal; although even the most abstract of my works, still exhibit a three dimensional appearance composed of recognizable elements.
Lynn Lee
"I am entranced by the patterns of nature and their seeming effortless perfection, season after season, year after year. Whether it be the repetitive ripples on the watery surface or the unfurling of a fern leaf, I can find myself quite lost in their beauty."
Kate Ryckman
In a world full of technology she is drawn to the things we cannot control, and is aspiring to share the simple beauty of the world around us.
Judy Dana
"I employ a lot of colour and expression in my paintings – a blend of impressionism and expressionism is my take on my style."
Denise Guillemette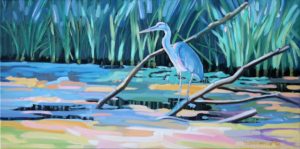 The beauty of the landscapes and the happy moments of life are the sources of her inspirations.
Chantal Dupuis
She loves to capture the soul of an animal or a place and hopes that her paintings will share their spark with whomever sees and/or owns them.