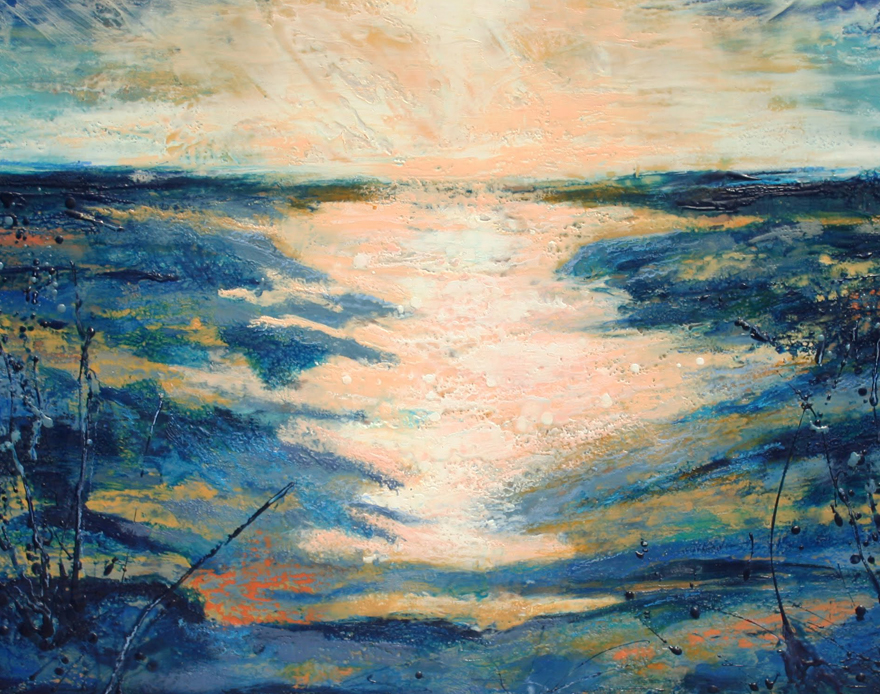 Marie has taken many courses at the Ottawa School of Art using oils and painted plein air landscapes for several years. However, a few years ago she discovered encaustics and it is now her primary medium.  Marie is mostly self-taught in the art of encaustics. She usually paints from memory, as the years of plein air has provided her with inspiration for the encaustic paintings which are often a mix of realism and abstraction.
Marie shows her work regularly at the Ottawa Little Theatre, Promenade Arteast at the Shenkman Arts Centre and the Kanata Civic Art Gallery. She has an upcoming solo exhibition at the Trinity Gallery in the Shenkman Arts Centre during the summer of 2016. Marie has won awards with Arteast and the Ottawa Art Association.
Marie finds encaustic an intriguing medium as it allows for layering, creating textures and luminosity. Encaustic medium is made with beeswax and damar resin with oil paint added for colour.
Painting with melted wax requires letting go and allowing the wax to choose its path. The unpredictable nature of the medium allows beauty to be found in imperfection. Marie finds that the unexpected textures and results keeps the painting process exciting and fresh.