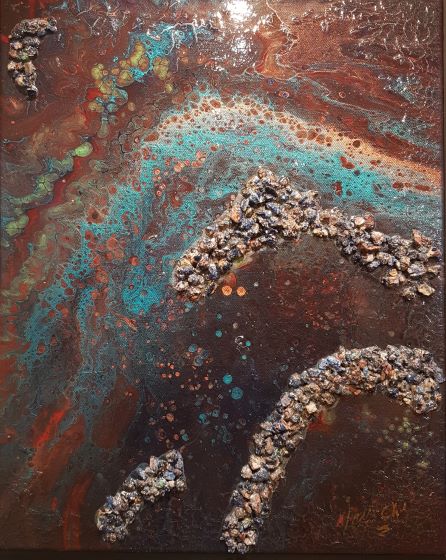 Born just outside of Ottawa, Canada in 1960, Jackie has lived in the Ottawa area all of her life.

When she was 16 years old, she left home for the first time and went to work at a printing, framing, dry mounting and laminating studio where she first discovered her love of creative arts. She worked with artists in the picture framing business for the next 12 years, all the while taking night courses in various subjects like marketing, accounting, photography, arts and languages.

Jackie discovered Acrylic and Resin pouring techniques and was hooked! These art mediums and techniques have become her passion. She has had pieces chosen in Juried exhibits at the Art House Cafe in Ottawa and has donated pieces to various charities and fund raisers in the city.

She sells her artwork out of her home, at a few gift stores, in arts and craft shows in the Ottawa area and on social media. Jackie has recently semi-retired from high tech life and is an artist, Reiki Master and Indian Head Massage therapist.

With a love of learning, she plans on getting more education in the arts. She works out of her home in Bells Corners, Ottawa.
https://www.facebook.com/sense11art/
https://www.instagram.com/sense_11_art/?hl=en